So, there w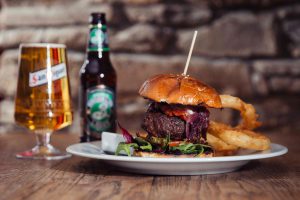 e go…
Easter 2017 has come and gone, and it was a BLAST! Always a kind of 'marker' for us in the biz, Easter denotes the start of the 'Season Proper', and this year, it was a beauty…
Lots of you lovely folk enjoying the delights of North Devon in the Spring. Great weather, a real springiness in the air, sadly not much in the way of surf, but hey; that's a damn good excuse to hit the pub, and that's what you did.
So now we're in full swing, rolling along, with 2 more Bank Holiday weekends coming up through May, a lovely little mini Ale & Seafood Festival [weekend of 19 to 21st of May], with live music, great beers & ciders and fantastic local seafood…and on we go into the summer!!
Don't forget every Sunday night sees some great talent showcased at our Open Mic Night too.
See you here…..you're very welcome!!