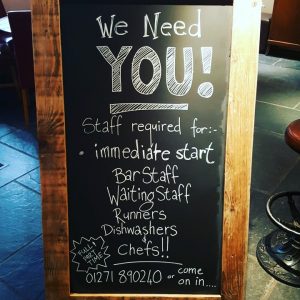 Yup, It's that time of year again…
The 2017 Season is looming large now, with Easter only a few weeks away, and we are recruiting!!
we want you
If you're lovely…
If you already know how to be fantastically hospitable…
If you have great experience in this marvellous trade (or if you don't, but if you reeeealllllly want to know it form the inside out!)
and we need;
chefs
waiters
bartenders
dishwashers
runners
Lots of options, and lots of flexibility; whether you want a full-time, permanent position to grow and develop a career (we can certainly help do that!), or whether you're hanging out in beautiful North Devon for just the season, surfing and beachin' it by day, and want an evening job where you can work hard, have fun and meet people – we would love to talk to you.
Get in touch via the Contact Us page here, or call us, or even better; swing on by for a chat!! Bring a CV, oodles of enthusiasm, a big smile, and be ready for Steve to enthuse about the loveliness of the Kings to you, and we'll take it from there.
Looking forward to meeting you soon!!