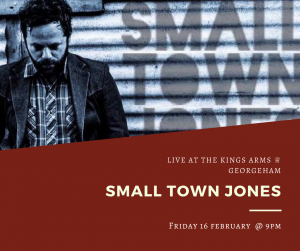 Friday 16th Feb 2018
We are thrilled to be welcoming the amazing Small Town Jones back to The King's Arms!
Having already provoked a four-star review in Q magazine for Freight Ships on At The Helm Records available nationwide, the album is now making big waves for this compelling West country artist, most recently appearing on Dermot O'Leary's BBC Radio 2 Saturday show.
"Jim has a voice that frames the world for a moment. He's a steady hand in a rattling, rolling, shifting sea of music. Hear Small Town Jones."
– Iain Archer Singer/Songwriter (Tired Pony/Snow Patrol) Ivor Novello winner
"Waves, has a cracked drawl reminiscent of Dinosaur JR's J.Masics and the almost whispered beauty of tracks such as Oxygen or Red are not a million miles away from Kurt Cobain on Nirvana's Something In The Way." Review in Fatea July 2012
"…Giving his songs a wider scope, but carrying the same intense intimacy, as he again attempts to make sense of hope and confusion." **** Review in Q magazine by Andy Fyfe, March 2012
"Emotive confessionals and keening ballads" – Keith Hargreaves, Americana UK.