The King's Arms has a strong music heritage, with our aim being to showcase the abundance of local talent that North Devon and the South West has to offer. Variety is the spice of life, and we run a broad programme throughout the year that represents all musical genres! From Indie, Roots & Ska, Blues, reggae and everything in between. Read on to find out whats in store…..
OPEN MIC – The First Sunday of every month….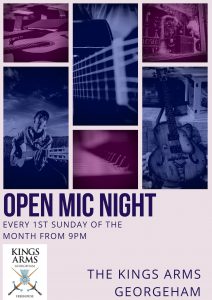 We invite all to join us on this wonderful journey of Music & Merriment that is, Open Mic Night!
The only thing you can be sure of is that no two nights will be the same, so come along, and be amazed and entertained.
All talents and all abilities welcome, so if you play then we'd love you to join us in making the magic!
Open Mic is live on the FIRST Sunday of EVERY month!
We are busy booking some great bands for 2019, so be sure to check back soon!
---
---
---
---
Past Performances
---
Friday 9th November – Jenna Witts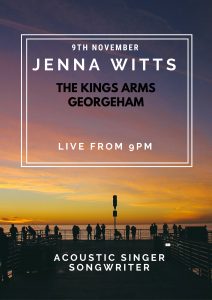 North Devon singer-songwriter Jenna Witts is a free spirit with an effortless natural talent. She is an accomplished keyboard player and acoustic guitarist who comes to life on stage with her infectious laugh and humor (with a west-country twang )– then silences everyone with her startlingly mature voice, sass, attitude and elegance. She delivers wonderfully melodic songs inspired by the sea, love and life .
 At 29, Jenna has a wealth of recording and touring experience behind her including 5 nation-wide tours with Steve Knightley (Show of Hands) as well as performing at 'Show Of Hands' sell out concert at The Royal Albert Hall. Jenna has also toured with Mercury prize nominee Seth Lakeman and supported Port Issac's Fisherman's Friends. She's also played alongside other musicians includingElkie Brooks, REEF, Vonda Shepard, Hazel O'Connor, Newton Faulkner, The Noisettes, Nerina Pallot.
 Jenna's first album 'Barefoot and Eager' attracted a string of accolades and national airplay and was named one of the Financial Times Top 10 world albums of 2007. Her second album 'Brother' has also received great critical acclaim and airplay on Radio 2. It showcases her talent as one of the most up and coming young singer songwriters in the UK.
Friday 16th November – Small Town Jones & Dave Little
Having already provoked a four-star review in Q magazine for Freight Ships on At The Helm Records available nationwide, the album is now making big waves for this compelling West country artist, most recently appearing on Dermot O'Leary's BBC Radio 2 Saturday show.
"Jim has a voice that frames the world for a moment. He's a steady hand in a rattling, rolling, shifting sea of music. Hear Small Town Jones."
– Iain Archer Singer/Songwriter (Tired Pony/Snow Patrol) Ivor Novello winner
"Waves, has a cracked drawl reminiscent of Dinosaur JR's J.Masics and the almost whispered beauty of tracks such as Oxygen or Red are not a million miles away from Kurt Cobain on Nirvana's Something In The Way." Review in Fatea July 2012
"…Giving his songs a wider scope, but carrying the same intense intimacy, as he again attempts to make sense of hope and confusion." **** Review in Q magazine by Andy Fyfe, March 2012
"Emotive confessionals and keening ballads" – Keith Hargreaves, Americana UK.
Friday 7th December – The Funk & Soul Club – DJ Pete Robinson (Live on Vinyl)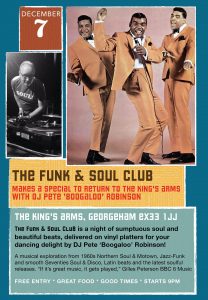 The Funk & Soul Club is a night of sumptuous soul and beautiful jazz funk soul and disco beats – returning to The King's Arms Georgeham for a pre-Christmas knees-up!
DJ Pete 'Boogaloo' Robinson presents a night of dancing to real records at this popular North Devon pub.
A musical exploration from Northern Soul & Motown, through jazz-funk and smooth 70s soul, to Latin beats and the latest soulful releases.
"If it's great music, it gets played," Gilles Peterson BBC Radio 6 Music.
Free entry, great food and good times!
Friday 14th December – Old Number 7
All the Rock Anthems & Jukebox classics you could want, it's air guitar central!
Rock, Ska, indie & blues – they cover from the 60's to Now and everywhere in between… & we don't stop there… we'll get your heart pumping and feet tapping!
Friday 21st December – Jazz Funk with Groovelator!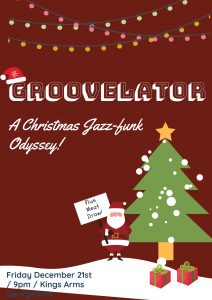 'Groovelator' finds freedom and elation in the groove. The band features virtuosic Hammond Organist John Paul Gard, Tom Gilkes on drums and Mark Lawrence on guitar with repertoire taken from funk and soul classics, pop hits, sizzlin' fusion, gospel and jazz.
"John-Paul is able to elicit the almost indescribable excitement and groove associated with the jazz organ." Pete Fallico KCSM FM91
John Paul Gard studied at Coventry University where tutors included Jason Rebello and Dave Buxton. He performed with Andreas Öberg at the IGG Festival, has appeared with Alex Hutchings at Musikmesse and Glastonbury Festival and is well known for his work with Eddie Martin, Mike Britton and Esmond Selwyn across the United Kingdom and in Europe. John Paul is endorsed by The KEYB Organ Group and the Ketron Music Group.
Mark Lawrence has a playing style of "vocalising guitar that hints at Hendrix via George Benson" and has performed at various festivals and club dates in the UK including the London Jazz Festival, The Vortex, Bristol Harbour Festival, 'Secret Garden Party' and at Oxford, Cheltenham, Teignmouth and Bude Jazz Festivals. Mark has appeared at the 'Craig Charles Funk and Soul Show' with 'Monkey Chuckle' and played support for The Apples and the Haggis Horns. Mark is an endorsee of the UK music products company Sonnus, Scuffham Amps S-Gear and Jam Origin's MIDI Guitar.
Tom Gilkes has studied with a who's who of rhythm masters including Dave Dicenso, Aaron Comess, Dave Weckl, Mark Pusey, Jason Bowld and Robert Brian. Tom is a graduate of BIMM and performs regularly with Eddie Martin, Monkey Chuckle, Elles Bailey and many others. Notable other live and recording credits include Glastonbury, the Bristol Jazz and Blues festival, support for Brother Strut, working with producer Clint Murphy and Brian Banks (who performed on Michael Jackson's Thriller album).