The King's Arms has a strong music heritage, with our aim being to showcase the abundance of local talent that North Devon and the South West has to offer. Variety is the spice of life, and we run a broad programme throughout the year that represents all musical genres! From Indie, Roots & Ska, Blues, reggae and everything in between. Read on to find out whats in store…..
OPEN MIC – The First Sunday of every month….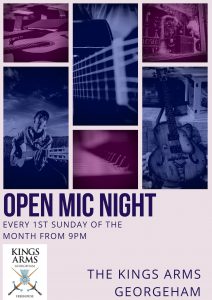 We invite all to join us on this wonderful journey of Music & Merriment that is, Open Mic Night!
The only thing you can be sure of is that no two nights will be the same, so come along, and be amazed and entertained.
All talents and all abilities welcome, so if you play then we'd love you to join us in making the magic!
Open Mic is live on the FIRST Sunday of EVERY month!
---
---
Friday 3rd May 2019 – David Smale Band

Well hello Bank Holiday Weekend!
A package of heavy grooves, wailing vocals and crushing synth bass, all wrapped up in psychedelic paper. Lazy, hazy, alternative rock.
---
 Friday 10th May 2019 – The Big Beat Boogaloo with DJ Pete Robinson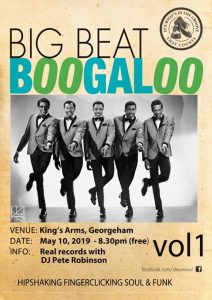 Dance the night away to hipshaking, fingerclicking grooves with the Big Beat Boogaloo and DJ Pete Robinson at the King's Arms in Georgeham!
Real records all the way – expect a sprinkling of Northern Soul, Motown, '60s R & B classics, Funk and Latin vibes to keep you moving all night long… free entry, and good times!
---
Friday 17th May 2019 – Almost Alice
Almost Alice have been playing together for 20 years! Expect a great blend of Rock, Blues, 60s classics and maybe even a couple of originals!
Friday 24th May – The Cal White Trio
A rate treat at the Kings Arms, newly formed trio will be bringing their special blend of covers from the 60s through to the 2000s with an original jazzy/bluesy/folk/County twist!
Friday 14th June – The Alchemists
Friday 28th June – Peter Bruntnell
Peter Bruntnell's music is a cross over blend of Folk, Roots, Pop, Psychedelia and good old electric guitar music.
 NME claimed that "Peter Bruntnell's records should be taught in schools". And with 9 studio albums under his belt and countless high-profile fans picked up along the way the music doesn't stop. Followers include REM's Peter Buck , Scott McCaughey, Lambchop's Kurt Wagner and Son Volt's Jay Farrar. Peter Bruntnell is a well established act who is looking forward to continuing sharing his music with followers old or new.
It all started back in 1995 when Peter signed to Almo Sounds, where his label-mates included Gillian Welch and Garbage. He made two albums for the label: Cannibal and Camelot in Smithereens. Grammy-winning Peter Smith (Sting/Squeeze) who produced the debut Cannibal still cites it as "one of the top 3 records I've worked on".
In 1999 Peter signed to Rykodisc/ Slowriver and released 'Normal For Bridgwater'. This was to be his biggest commercial success and a record that won him wider acclaim in North America. Upon hearing the album, Kathleen Edwards told her producer when recording her debut 'Failer' "I want to make an album like this". Peter struck up a friendship with Son Volt, which resulted in touring together. It also saw the introduction to Peter's band of a 17 year-old James Walbourne. As well as playing with Peter, James tours as a member of the Pretenders.
Rather than reproduce the 'Americana' feel of Normal For Bridgwater, Peter's restless musical spirit has seen him strike out in new direction with almost every subsequent album. Four albums for Loose continued to win him admirers – by 2005, The Independent were calling him "one of the finest songwriters in Britain" and Richmond Fontaine's front man Willy Vlautin called him his favourite singer.
His most recent release for Loose was 2009's 'Peter And The Murder Of Crows'. Filled with psychedelic drones and mellifluous tunes, the album found reviewers and fans alike comparing him with Nick Drake and John Martyn. It was one of Q magazine's Albums Of The Year and was Americana Album Of The Month in MOJO Magazine.
Ever inventive, with his latest 2011's 'Black Mountain UFO' Peter mixed West Coast harmonies with the requisite dab of psychedelia.
https://peterbruntnell.net/
 Friday 9th August – A Boy Called Man
Somewhere between Indie, folk, a fiddle and dark melodic vocals lies a boy called man.